Details

Category:

Written by

Rumeysa

Hits:

2278
Today we are going to take a look inside of the mind of a storyteller. Her name is Noemia Colonna.

RawafedZusammenfluss: Who is Noemia Colonna? Can you tell us about yourself?
Noemia Colonna: I am a 45-year-old mum, and I have a 14-year-old son. I call myself a storyteller, that shares different perspectives of stories. Growing up in a white world, we're used to hearing stories from just one side. This motivated me to become a journalist. That's why in all of my stories, I'm trying to share every point of view.
RZ: How did you move to Berlin?
NC: We lived in Europe five years ago. The experience was excellent. I finished my Masters and two years later I went back to Brazil. There are a lot of good things that have happened to me, including my job, learning my professional speaking skills and meeting my current husband. After five years in Brazil, I decided to go back to Europe to keep my studies. Now I will take a Ph.D. here in Berlin.
RZ: Why Berlin?
NC: It is a good question because the reason why I'm here is not just because of Germany, but because of Berlin. The city I came from is bigger than Berlin, but everything you need from the cosmopolitan city is here. It's only been two months but I feel like I belong here. Although I don't speak German, many people speak English. That's how I became a participant in basic life, such as having yoga classes, going to university and taking my son to school.
RZ: How do you feel when you can't express yourself in German?
NC: A little nervous. I feel the language barrier in daily life. But when people don't want to speak English, I act very openly. I use my body language. For example, when I go to a supermarket and there is someone who can't speak English, I say, "Okay. I will translate what I need and then you can help me." Language shouldn't be a reason to block you from helping someone.
RZ: So, you are trying lots of ways?
NC: I never leave a place before my problem gets solved. So, yes, I keep pushing but, I should be honest, it is a new thing for me because I speak four languages but not German. My goal is to go back to my country with knowledge of this language.
RZ: You have a son, and I'm sure you want to make him feel at home here. How do you encourage him?
NC: I feel very honest with myself and with him. We had a conversation with him today because he will start school on Monday. He will go to German School, but he doesn't speak German at all. He is lucky because he speaks four languages fluently. But of course, he is a little afraid of the language problem. There are a lot of people telling him that speaking German is hard. I told him "even in your country, even when you speak the same language, it is really hard to be an outsider." We came from South-America and I had to face very hard situations even in my country because I am a Black woman.
RZ: What does it mean being a Black woman in this world?
NC: I have a Black body, and this body says something. From the day we are born, we learn how to put ourselves in a place we want to be. Germany, Argentina or France, no matter where we are, we will have a Black body. We have to put ourselves in a place where we want to be and face everything we have to face.
RZ: Does it make you feel like you need to prove yourself as a Black woman?
NC: Of course. I am a role model for a lot of young girls. I am considered middle class in my country, so I must prove myself even more. When someone looks at me, they should think Black women can also be successful.
RZ: You are also part of a project which supports Black women in technology. Can you tell us about this project?
NC: Yes, I'm a participant in the project of Preta Lab. It is about the necessity and pertinence of including Black women in innovation and technology. If women take part in technology, it can help us to become more equal. The research shows that we need to support women more than we do now.

RZ: It is an excellent project. But, we see most of Black women still don't have the same opportunities as other people. What do you think about that?
NC: You are right. For example, I have opportunities that many other Black women don't have. If I'm in a place where many other Black people can't be, then I have to speak for them. While I'm doing it, I don't even need to open my mouth. When my body is walking down a street or settling down, it is political because having a Black body is political. But of course, I'm here not just for all Black girls, but also for 'others'. I want to show, they are not just 'others', but they are human beings.
RZ: Do you think we keep judging others because of the differences we have?
NC: I don't know about this in Germany yet, but in my country, you don't even need to say a word - people make judgments because of your looks or your culture. What I mean is that commonly people believe those with dark skin should be doing low works. But, when you are not like that and when you have a voice, when you are a journalist they say ''Oh, I thought you were a model.'' There are many stereotypes; if you are a Black, tall girl you must be model; If you are a rich Black woman then you must be an artist. Through my experiences in the academy, I can say I haven't felt like they've been judging me. Because thank God, a paper doesn't have color or gender.
RZ: Can we change and challenge how things are right now?
NC: I think it is possible but not easy. You can lose a job because you don't follow the rules about beauty. I embrace my natural hair, but ten years ago in Brazil, I could never have my natural hair in front of the cameras. I had to straighten my hair. If I wanted to have my natural hair, I could, but who could pay my bills? I'm not a person that likes to follow those kinds of rules and accept those kinds of demands. I left my job because I had respect for myself. Then, I was lucky because I got accepted to public TV and there I had my natural hair. I was good at my work, and my look did not matter more than my work. But there are a lot of women who had to accept these kinds of demands, but I'm trying to be optimistic. It is possible to challenge the status quo. But if we want to do it, we need to be in places where the power exists, like media, government and universities. And, we must work together.

RZ: You are sharing the same color and similar experiences with black men. Do men support women in those situations?
NC: Even when you are a Black person, if you are male you don't experience what a Black female does. We don't discuss the same issues. Once we get beyond genders, then we can talk about Black people's issues.

RZ: Even if it is not your issue, being together and being a voice for others... What does it mean to you?
NC: I don't believe in fighting alone because history proved it doesn't work. I believe the fight is not just yours because you don't live alone in this world. As a Black person, I say to my non-Black friends, fighting racism is not a Black people's issue, it is everybody's issue. This is because racism was invented by people who were not Black It's the same with gender issues: what is the point if, as women, we change our minds but men don't? Together we are much more able to end bad situations.
RZ: How do you raise your son when it comes to understanding others?
NC: I teach him to listen to girls. Because in our world, no one wants to listen they just want to speak. He has many female friends and when one of his friends says ''But you have more female friends than male friends',' he says, "it is normal.'' I always taught him: you will get more privileges because you are a boy, so he is aware that it is not fair. A girl should have as much privilege as much as he has and he should take action about that.
RZ: Is it about empathizing?
NC: Yes, it is the best exercise in the world. Don't feel pity for them like ''oh, poor thing she or he doesn't know what to do.'' They know what to do, just listen to them and support them.
RZ: It was a wonderful interview for me. Thank you so much.

This interview is part of the series "Talking to Powerful Women", initiated by Rumeysa Yalazan, who is currently doing an internship at RawafedZusammenfluss.
---
About the author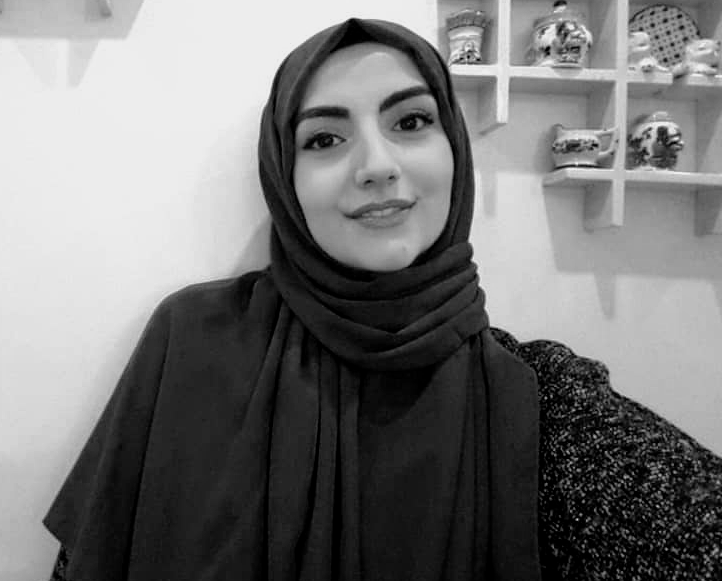 Rumeysa
Rumeysa macht derzeit ihren BA in Soziologie an der Abant Izzet Baysal University. Für ihr Studium kam sie nach Berlin, um für RawafedZusammenfluss Geschichten über starke Frauen zu sammeln. Du bist oder kennst eine Frau, die sie portraitieren sollte? Erzähl ihr davon: r.yalazan@offensiv91.de

Rumeysa is currently doing her BA in Sociology at Abant Izzet Baysal University. For her studies she came to Berlin to support RawafedZusammenfluss by collecting stories of powerful women. You are or know a powerful woman that should be portrayed? Tell her via r.yalazan@offensiv91.de